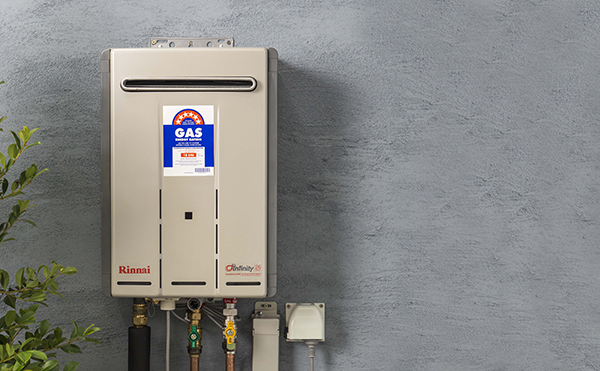 Infinity 26 Touch
Explore Australia's newest and most innovative continuous flow hot water system!

In another touch of Rinnai genius, we have incorporated our unique fingertip wireless temperature control and the famous Rinnai Infinity 26 - combined they make the new Rinnai Infinity 26 Touch.
Our Rinnai Infinity 26 Touch comes complete with inbuilt wireless temperature control, ready to be installed and enjoyed.
The Rinnai INFINITY 26 Touch is Ideal for two to three bathroom homes, and ensures you'll always have enough safe and temperature controlled hot water for your household requirements.
Incorporates Rinnai's Unique Wireless Temperature Control
Highest quality internal components built by Rinnai
6.0 Star equivalent* energy rating
Never runs out of hot water
Status operation monitor
Puretemp™ temperature stability technology
Unique Wireless Temperature Control Technology
Exclusive to Rinnai, our wireless technology and controller is now supplied with the unit - precise temperature control is in the palm of your hand.

Built by Rinnai, for Rinnai
We use the highest quality internal components in our hot water systems to give you worry free hot water.
6.0 Star equivalent energy rating*
Low running costs
High efficiency
Low greenhouse gas emissions
Superior technology
Quality Japanese design and manufacturing built to last
Precise wireless temperature control for safety and convenience
Compact design allows installation flexibility
Suitable for higher ambient water temperatures
Compatible with low flow rated shower fixtures (3 Star - 7.0 to 9.0 l/min)
Rinnai quality
After sales support network
* Independently calculated using Australian Standard AS5263.1.2.  S5263.1.2 limits the rating shown on the energy label to 6.0 Stars.  Where the calculated rating of Rinnai appliances exceeds 6.0 Stars it is designated as an "equivalent" rating.
The product information on this website (comprising product brochures, warranty information, installation manuals, diagrams, specifications and representations) relates to current products. This information may be different for superseded products. For superseded products please contact Rinnai to confirm product information.
Specifications
| | |
| --- | --- |
| Dimensions (mm) : Height | 571 |
| Dimensions (mm) : Width | 356 |
| Dimensions (mm) : Depth | 202 |
| Colours | Champagne Pearl |
| Factory Default Temperature (Celsius) | 50 or 60 |
| Water Pressure (kPa) : Minimum | 200 |
| Water Pressure (kPa) : Maximum | 1000 |
| Gas Rate Max (Mj/h) : NG | 199 |
| Flow Rate 25 Degrees C/Max : l/min | 26 |
| Star Rating | 6.0* Equivalent |
| Connection Sizes Gas/Hot/Cold (mm) | 20/20/20 |
| Status Monitor | Yes |
| Dimensions (mm) : Height Inc Brackets | 571 |
| Dimensions (mm) : Hot Water Outlet (From Wall) | 87 |
| Dimensions (mm) : Hot Water Outlet (Left from Centre) | 105 |
| Dimensions (mm) : Cold Water Inlet (From Wall) | 68 |
| Dimensions (mm) : Cold Water Inlet (Right from Centre) | 10 |
| Dimensions (mm) : Gas Connection (From Wall) | 77 |
| Dimensions (mm) : Gas Connection (Right from Centre) | 83 |
| Dimensions (mm) : Gas Connection Length (From Base) | 40 |
| Dimensions (mm) : Cold Connection Length (From Base) | 50 |
| Weight (kg) | 15.5 |