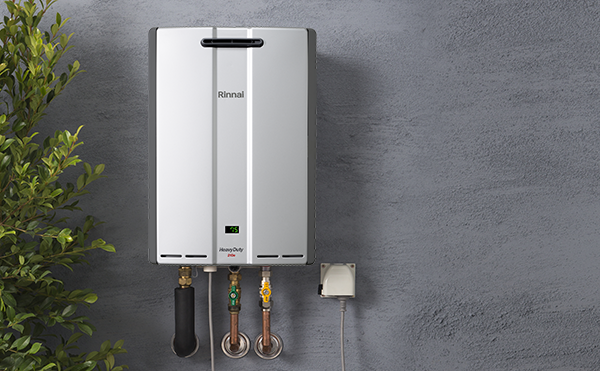 Infinity 32 ENVIRO⁺
Lower running cost. Lower environmental impact
Perfect for 2-3 bathroom homes ( 2-4 in warmer climates) the top of the range eco-efficient Rinnai Continuous Flow Condensing Hot Water System ensures you never run out of hot water again.
Using considerably less gas than a standard continuous flow hot water system or gas storage tanks, this unit only heats water when you turn a tap on, conserving energy and reducing household running costs. Coupled with an outstanding 97% thermal efficiency, the Rinnai Infinity 32 Enviro+ means you get superior comfort with a smaller carbon footprint.
Designed using commercial DNA, the advanced stainless steel internal construction guarantees unsurpassed reliability, easy domestic commissioning and installation, this compact unit withstands tough Australian conditions and saves precious outdoor space. The Rinnai Infinity 32 Enviro+ also comes equipped with a host of features including built-in temperature control display, enhanced safety monitor and puretemp™ stability control.
Customise and complete your Infinity 32 Enviro+ system with our comprehensive range of hot water controllers and accessories to enhance your hot water experience.
Never runs out of hot water
Precise temperature control for safety and convenience
Status operation Monitor
12 Year Heat Exchanger warranty
Puretemp™ temperature stability technology
LPG or natural gas models available
Advanced stainless steel internal construction
97% Thermal efficiency
Inbuilt Energy Recovery System (Condensing Technology)
Uses less gas, substantially reducing running costs
Also available in 16L or 32L models
12 year warranty on the heat exchanger
97% thermal efficiency
Robust Stainless Steel internal construction
*  Independently calculated using Australian Standard AS4552.  AS4552 limits the rating shown on the energy label to 6.0 Stars.  Where the calculated rating of Rinnai appliances exceeds 6.0 Stars it is designated as an "equivalent" rating.
The product information on this website (comprising product brochures, warranty information, installation manuals, diagrams, specifications and representations) relates to current products. This information may be different for superseded products. For superseded products please contact Rinnai to confirm product information.
Specifications
| | |
| --- | --- |
| Dimensions (mm) : Height | 670 |
| Dimensions (mm) : Width | 470 |
| Dimensions (mm) : Depth | 309 |
| Colours | Prestige Silver |
| Factory Default Temperature (Celsius) | 60 |
| Water Pressure (kPa) : Minimum | 300 |
| Water Pressure (kPa) : Maximum | 1000 |
| Gas Rate Min/Max (Mj/h) : NG | 16/209 |
| Flow Rate 25 Degrees C/Max : l/min | 32/37 |
| Star Rating | 6.3* Equivalent |
| Connection Sizes Gas/Hot/Cold (mm) | 20/20/20 |
| Status Monitor | Yes |
| Dimensions (mm) : Height Inc Brackets | 722 |
| Dimensions (mm) : Hot Water Outlet (From Wall) | 157 |
| Dimensions (mm) : Hot Water Outlet (Left from Centre) | 130 |
| Dimensions (mm) : Cold Water Inlet (From Wall) | 91 |
| Dimensions (mm) : Cold Water Inlet (Right from Centre) | 10 |
| Dimensions (mm) : Gas Connection (From Wall) | 72 |
| Dimensions (mm) : Gas Connection (Right from Centre) | 142 |
| Dimensions (mm) : Condensate Outlet (From Wall) | 135 |
| Dimensions (mm) : Condensate Outlet (From Centre) | 196 |
| Dimensions (mm) : Gas Connection Length (From Base) | 45 |
| Dimensions (mm) : Cold Connection Length (From Base) | 54 |
| Dimensions (mm) : Condensate Connection (From Base) | 34 |
| Dimensions (mm) : Condensate Fitting Diameter | 15 |
| Weight (kg) | 29 |
| Hot Connection Length (from base) | 41 |