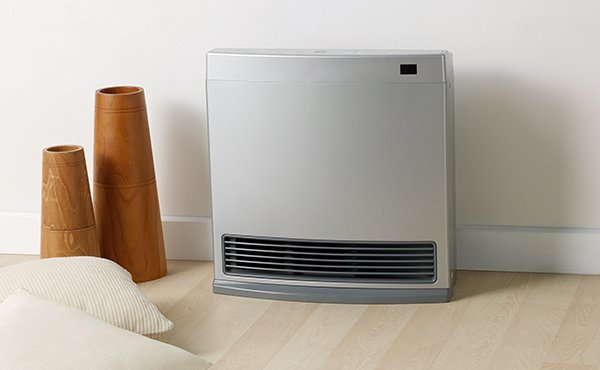 Dynamo 15 Convector
A little dynamo of a convector
Sophisticated in both design and functionality, the Dynamo 15 Radiant Convector outputs an impressive radiant heat that will keep you cosy all winter long.  Its separate morning and evening timers work around your lifestyle, meaning you won't feel the frosty temperatures outside.
Swiftly heat up any small to medium sized room without worrying about adding to your heating bills – the Dynamo 15 Convector comes complete with low emissions technology, thermostatic set'n'forget operation and easy to use advanced controls. Once the room has maintained temperature for an hour, the Dynamo 15 Convector's Economy mode gradually reduces the heat setting. Saving you gas and money.
With an outstanding 5.8 efficiency star rating, the Dynamo 15 Radiant Convector lets you to take comfort around the home. All you need is an appropriate gas connection point.
Ideal for heating a medium sized area
Convenient remote control operation
5 year peace of mind warranty
Low emissions technology
Ideal for medium sized areas
Dual programmable timers - for mornings and evenings
Remote control – for added convenience
Compatible with LPG & Natural Gas
The product information on this website (comprising product brochures, warranty information, installation manuals, diagrams, specifications and representations) relates to current products. This information may be different for superseded products. For superseded products please contact Rinnai to confirm product information.
Specifications
| | |
| --- | --- |
| Dimensions (mm) : Height | 495 |
| Dimensions (mm) : Width | 490 |
| Dimensions (mm) : Depth | 245 |
| Colours | White or Platinum Silver |
| Gas Input MJ/h Low | 6.0 |
| Gas Input MJ/h High | 15 |
| kW Output | 3.8 |
| Heats upto Capacity (m2) : Very Cold | 32 |
| Heats upto Capacity (m2) : Cold | 38 |
| Heats upto Capacity (m2) : Cool | 52 |
| Heats upto Capacity (m2) : Mild | 59 |
| AS4553 Efficiency Star Rating | 5.8 |
| AS4553 Emissions Star Rating NG & LPG | 3.8/3.5 |
| Dual Timers | Yes |
| Preheat Feature | Yes |
| Economy Mode | Yes |
| Override Button | Yes |
| Child Lock or Lock Button | Yes |
| Gas Type | LPG & NG |