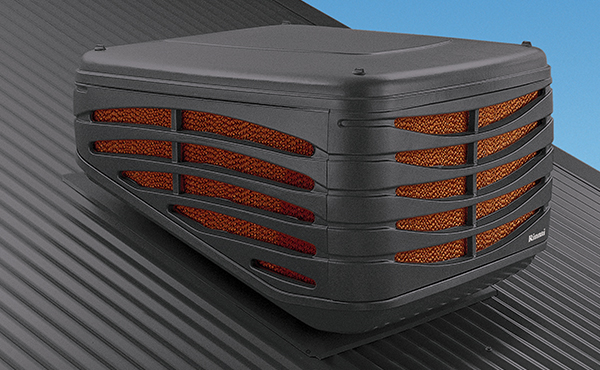 Rinnai C Series Evaporative Air Cooler
A Refreshing Ducted Evaporative Cooling System
One of the most advanced Evaporative Air Coolers in its class, the discreet Australian-built Rinnai C Series creates healthy home ventilation by delivering vast volumes of clean air with a minimal profile.
The system's pre-wet cycle allows for fresh water to enter and soak the Evaporative Air Cooler pads before the fan starts, conserving water and energy usage. 
Smart in design, the inbuilt water conditioner ensures water is clean while reducing wastage. Small water reservoirs minimise water discharge and when in standby, the air cooling system removes any stagnant water and sediment build up.
Boasting contemporary features including quiet fan operation, motorised winter seal and thick cooling pads, the Rinnai C Series Evaporative Air Cooler is encased in a durable UV protected plastic casing to withstand Australia's harsh extremes. 
Take advantage of Wi-Fi control by pairing your home evaporative cooling system with the Rinnai Wi-Fi Touch™ app. 
Exclusive to SA & WA for dealers outside these states please visit Brivis here
Ideal for new homes & replacing evaporative air coolers
Range of popular colours to blend with your roofline
UV protected plastic casing
High efficiency with up to 130 mm thick evaporative cooling pads
Locally manufactured accredited to ISO9001.

Low operating costs. 

Quiet fan operation.

Inbuilt water conditioner ensures water in

evaporative air cooler

is clean and pure. 

Motorised winter seal prevents drafts going into home and heat escaping during winter.

Sloping base allows for the

rooftop evaporative cooler

to have a lower profile. 

Contemporary design with efficient operation.

Small water reservoirs, minimising water discharge when unit is off.

Available in 3 attractive colours to blend in with your roof.

Compatible with either a range of controls including Networker Controller, Manual Controller and Rinnai Touch Wi-Fi App.
The product information on this website (comprising product brochures, warranty information, installation manuals, diagrams, specifications and representations) relates to current products. This information may be different for superseded products. For superseded products please contact Rinnai to confirm product information.
Specifications
Series
Model
Length (mm)
Width (mm)
Front Height (mm)
Back Height (mm)
Dry Weight
C SERIES
C30
1100
1100
720
400
52
C40
1100
1100
800
480
57
C50
1100
1100
800
480
57
C60
1100
1100
800
480
56
C70
1100
1100
800
480
58