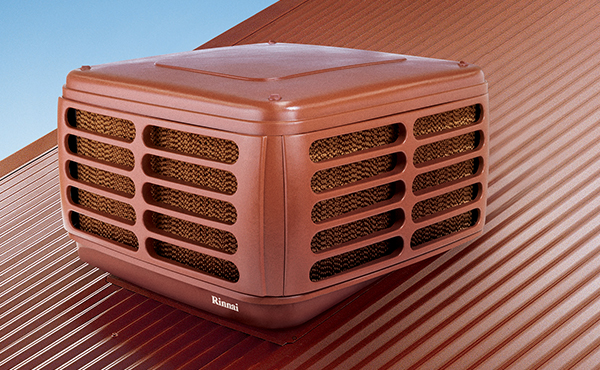 Rinnai A Series Evaporative Air Cooler
A Refreshing Ducted Evaporative Cooling System
With a greater surface pad area, Rinnai's Australian-built A Series Evaporative Air Coolers excel in providing vast volumes of natural, refreshing air within the home.
Delivering a constant flow of purified air, this impressive rooftop evaporative cooler removes any stagnant water and sediment build up, and features a sloping trough to keep water constantly circulating.
Encased in a resilient UV protected plastic exterior, the Rinnai A Series Evaporative Air Cooler System comes equipped with a host of features including quiet operation, motorised winter seal (A Plus Series only) and variable fan speed settings. 
Enjoy the benefits of Wi-Fi control by pairing your home evaporative cooling system with the Rinnai Wi-Fi Touch™ app. 
Exclusive to SA & WA for dealers outside these states please visit Brivis here
Ideal for new homes & replacing existing evaporative air coolers
Range of popular colours to blend with your roofline
UV protected plastic casing
High efficiency evaporative cooling pads
Locally manufactured accredited to ISO9001
Low operating costs
When in standby, the evaporative cooler removes stagnant water & sediment build up.
Winter seal prevents drafts going into home and heat escaping during winter (A plus series only)
Fast cool down with a greater blade surface
Contemporary design with efficient operation
Compatible with either a range of controls including Networker Controller, Manual Controller & Rinnai Touch Wi-Fi App
The product information on this website (comprising product brochures, warranty information, installation manuals, diagrams, specifications and representations) relates to current products. This information may be different for superseded products. For superseded products please contact Rinnai to confirm product information.
Specifications
Series
Model
Length (mm)
Width (mm)
Height (mm)
Dry Weight
A SERIES
A30
1100
1100
597
49
AS40
1100
1100
682
51
A50
1100
1100
682
51
AS60
1100
1100
682
51
A70
1100
1100
945
64
AS80
1100
1100
945
64