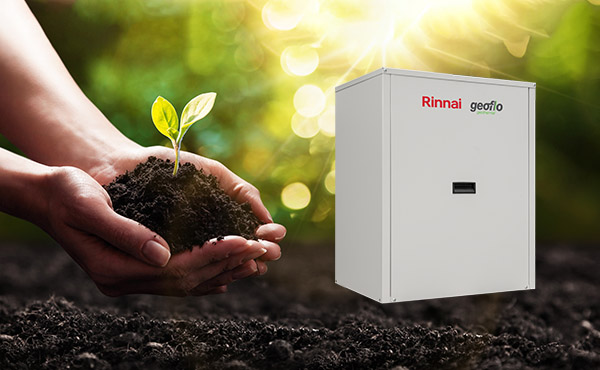 Geoflo
Every day the ground absorbs approximately half of the sun's energy that reaches earth and stores it at a steady temperature. Rinnai's Geoflo geothermal system utilises this renewable energy source via a ground loop heat exchanger to reliably deliver highly efficient heating and cooling to achieve your desired level of comfort.
Conventional cooling and heating systems heavily rely on fluctuating outside air temperatures to operate. Rinnai's Geoflo geothermal utilises stable ground temperatures and conditions your home with greater reliability in performance regardless of the outside temperature.
For further information or to contact our national geothermal agency please click here.
Lower energy costs
Sustainable heating & cooling
Simple maintenance
Quiet operation
5 year warranty
Extremely cost-effective
Geothermal energy is extremely affordable and can cut electricity consumption by up to 30% in comparison to a traditional ducted reverse cycle air conditioning system. Geothermal system heating and cooling performance is maintained during extreme climate conditions eliminating high seasonal energy costs.
Quiet operation
When looking for a heating and cooling system that you can't hear, look no further than geothermal. Being very smooth and quiet in operation, geothermal systems rely on the temperature of the ground to heat and cool your home. This results in a very quiet operation with no one knowing that the system is even on.
Flexible design
Geothermal heat pump systems are designed with the user in mind. Geothermal systems can be installed in either new or retrofit applications. Since the hardware requires a lot less space than traditional HVAC systems, you can instantly save yourself some storage space in your home by switching to a geothermal system. The Condensing Unit can also be installed indoor, saving space outside your home.
Durable
Geothermal systems have a relatively low level of moving parts. With high durability and reliability, geothermal systems are becoming the way of the future for many homeowners.
Specifications
System Overview
Power Supply
V – Ph Hz
220-240-1-50
Cooling
Rated Capacity
kW
18.2
Rated Input Power
kW
4.5
EER
W/W
4.0
Heating
Rated Heating Capacity
kW
17.6
Rated Heating Input Power
kW
4.0
COP
W/W
4.4
Refrigerant
RA10A
Pipe Connection Liquid/ Suction
                                                                                                                                                                                                                                              mm
12.7 / 22.2
Condensing Unit
Model Name
DOGEV17Z7
Compressor Type
Scroll
Maximum Input Current
A
32
Maximum Input Power
kW
5.5
Outdoor Noise Level
dB(A) @ 1.5m
42
Dimensions (W x D x H)
mm
624 x 464 x 800
Net Weight
Kg
100
Operating Temperature Limits
°C
-15° – 50°
Indoor Fan Unit
Model Name
DIGEV17Z7
Maximum Input Current
A
4.4
Maximum Input Power
kW
1.5
Dimensions (W x D x H)
mm
1225 x 655 x 444
Net Weight
Kg
70
Air Flow
L/s (ESP)
750(150Pa)
Maximum External Static Pressure
Pa
200
Supply Air Duct Connection
mm
1072 x 406
Return Air Duct Connection
mm
718 x 264
Moisture Removal
L/h
5.7