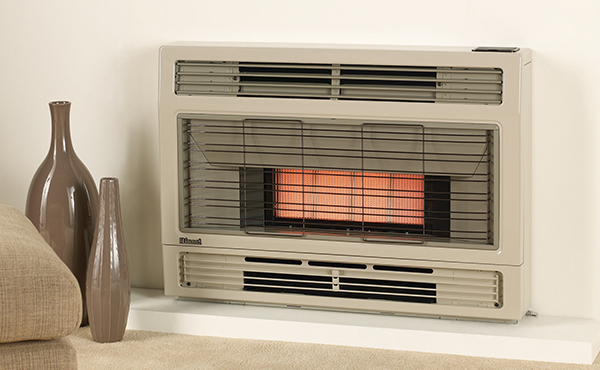 Spectrum Inbuilt
A simple heating solution
Our Spectrum Space Heater provides cosy, radiant and convection warmth, while its powerful heat output makes it ideal for large living areas. Its compact and sturdy design will stand the test of time fitted into an existing fireplace. Its three heat setting buttons are conveniently located out of the way on top of the unit. And depending on your needs, it's also available in console or inbuilt configurations.
3 heat settings
Top mounted controls
Electronic Ignition – lights first time
Standard features:
3 heat settings
Top mounted controls
2 speed fan - for even heat distribution
Electronic Ignition - lights first time
Can be converted to LPG
Safety features:
Protective dressguard
Flame failure safety system
Overheat safety switch
The product information on this website (comprising product brochures, warranty information, installation manuals, diagrams, specifications and representations) relates to current products. This information may be different for superseded products. For superseded products please contact Rinnai to confirm product information.
Specifications
| | |
| --- | --- |
| Dimensions (mm) : Height | 650 |
| Dimensions (mm) : Width | 910 |
| Dimensions (mm) : Depth | 125 |
| Inbuilt Cavity Dimensions (mm) : Height | 605-635 |
| Inbuilt Cavity Dimensions (mm) : Width | 540-805 |
| Inbuilt Cavity Dimensions (mm) : Depth | Min. 270 |
| Colours | Beige or Brown |
| Gas Input MJ/h Low | 7 |
| Gas Input MJ/h High | 28 |
| kW Output | 5.2 |
| Heats upto Capacity (m2) : Very Cold | 41 |
| Heats upto Capacity (m2) : Cold | 49 |
| Heats upto Capacity (m2) : Cool | 65 |
| Heats upto Capacity (m2) : Mild | 75 |
| AS4553 Efficiency Star Rating | 2.1 |
| AS4553 Emissions Star Rating NG & LPG | 6.0 |
| Thermostatic or Manual Control | Manual 3 Settings |
| Dual Timers | No |
| Delay Timer (FDT) | No |
| Dual Weekday & Weekend Timers | No |
| Preheat Feature | No |
| Economy Mode | No |
| Auto Off Mode | No |
| Override Button | No |
| Child Lock or Lock Button | No |
| Gas Type | NG |