2.6kW Reverse Cycle Split System
Creating comfortable and healthy homes all year round
Designed to efficiently deliver rapid cooling and heating to meet individual lifestyles, the Rinnai 2.6kW J Series Inverter Split System helps create comfortable and healthy Australian homes.
Perfect for the bedroom, this wi-fi compatible Inverter Split System features leading technologies including a high-density air filter, which removes unwanted contaminates replacing it with fresh air. A 3 minute cleaning cycle is ran after each use, keeping the indoor unit free of excess moisture.
The sleek Rinnai 2.6kW J Series Reverse Cycle Split System utilises a more eco-conscious R32 refrigerant, convenient timer functions and Sleep Mode amongst other practical features - all encased in a sleek matte design that effortlessly blends with your home décor.
With airflow distances of up to 15 metres, the Rinnai 2.6kW J Series Reverse Cycle Split System is the ultimate companion in economical comfort; wherever you call home.
Available exclusively from Harvey Norman.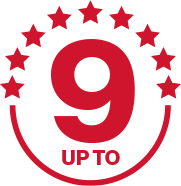 Locate Your Nearest Store
Low noise indoor unit – ideal for bedrooms
Energy efficient inverter technology
Fresh function ensuring optimum performance and hygiene
Voice control via Google Home and Amazon Alexa available
•  Energy efficient inverter technology
•  R32 Refrigerant – greater savings for you and the environment
•  Wi-Fi Enabled
•  Delay timer turns appliance on/off within a specific time period
•  Intuitive end of season cleaning function
•  Adjustable air flow direction
•  Outdoor operation range for temperatures of up to 52° Celsius
•  Low operating noise levels
•  Boost/turbo mode to swiftly reach desired set temperatures
•  5 year limited warranty
The product information on this website (comprising product brochures, warranty information, installation manuals, diagrams, specifications and representations) relates to current products. This information may be different for superseded products. For superseded products please contact Rinnai to confirm product information.
Model
HSNRJ25B
Cooling Capacity
kW
2.6 (0.60~3.20)
Heating Capacity
kW
2.6 (1.50~3.30)
AEER/ACOP
W/W
4.52/4.17
Cooling Energy Star Rating (hot, average, cold)
–
9 / 7 / 7.5
Heating Energy Star (hot, average, cold)
–
3.5 / 3.0 / 2.5
Moisture Removal
Litres/h
0.80
Indoor Noise Level (Turbo / Min)
dBA
43 – 22
Outdoor Noise Level
dBA
54
Electrical Data
Power Supply
V – Ph – Hz
220~240 – 1 – 50
Running Current
Cooling (A)
3.2
Heating (A)
3.0
Power Input
Cooling (W)
530
Heating (W)
600
Refrigerating System
Refrigerant Type
R32
Compressor
Type
Variable Output
Connections
Connecting Pipe
Liquid (mm)
6.35
Gas (mm)
9.52
Dimensions
Net Dimensions (W*H*D)
Indoor (mm)
881*294*194
Outdoor (mm)
800*545*315
Net Weight
Indoor (kg)
9.5
Outdoor (kg)
28

PDF
Photography