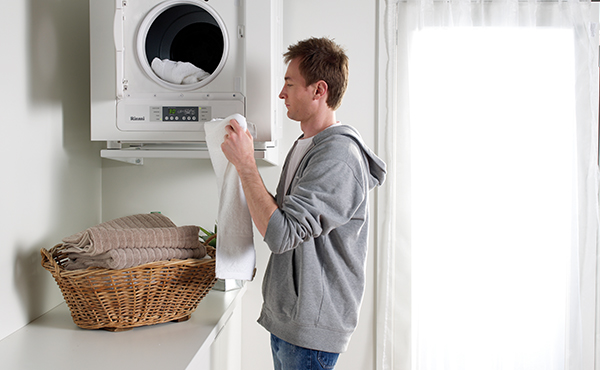 Dry-Soft® 4
Full of hot air.
Utilising the efficient heating power of gas, the Dry-Soft® 4 produces only one quarter of the greenhouse gas emissions when compared to a standard electric dryer. What's more, the Dry-Soft® 4 dries your clothes faster, which is important for busy mums.
And, not only does the Dry-Soft® 4 take care of the environment, it also takes care of your clothes. Inbuilt sensors detect the moisture levels in the load, ensuring that clothes don't over-dry. This improves efficiency and helps reduce wrinkles, and ultimately the amount of ironing.
Quick drying whilst gentle on clothes
Great for environment
Running cost savings
Superior Performance
Quick drying - thanks to the efficient heating power of gas, drying times are greatly reduced
Auto stop function - humidity sensors automatically switch off the dryer when the clothes are sufficiently dry
Delicate cycle – provides gentle drying at lower temperatures
Extra soft cycle – Stops the drum rotating and blows cool air, ensuring your clothes are extra soft, as well as reducing wrinkles
5 Drying Programs – will suit all your drying needs
Timer - can be set from 5 to 60 minutes
Electronic control panel – features an easy to use control panel with digital display
End-of-cycle signals - a buzzer will sound and the 'finish' indicator will flash when drying is complete
Exhaust duct – expels moist air, lint and dust outside
Reversible front door - can be mounted either side to suit your needs
The product information on this website (comprising product brochures, warranty information, installation manuals, diagrams, specifications and representations) relates to current products. This information may be different for superseded products. For superseded products please contact Rinnai to confirm product information.
Specifications
| | |
| --- | --- |
| Dimensions (mm) : Height | 586 |
| Dimensions (mm) : Width | 550 |
| Dimensions (mm) : Depth | 490 |
| Weight (kg) | 27 kg |
| Standard Drying Capacity | 4 kg |
| Drum Size | 65 L |
| Standard Drying Time | 60 minutes |
| Clean Lint Filter Reminder LED | Yes |
| Noise Level | 49 dB(A) |
| Electrical Supply | AC 220-240V (50/60 Hz) |
| Power Cord Length | 1.5 metres |
| Gas Consumption : Minimum | 5.0 MJ/h |
| Gas Consumption : Maximum | 13.0 MJ/h |
| Gas Connection | 300 mm flexible hose with 1/2″ BSP (compression) |
| Warranty | 2 Years Parts & Labour. In accordance with warranty terms & conditions supplied with the appliance. |