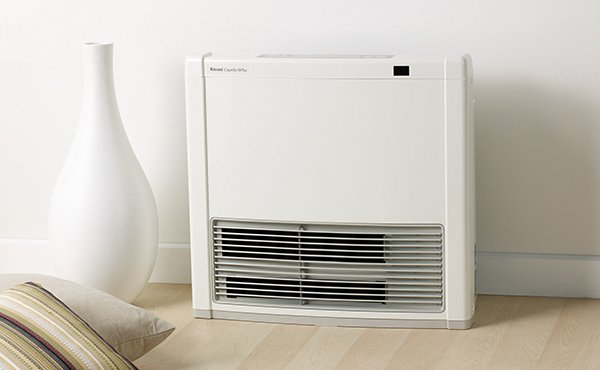 Capella 18Plus Convector
A shining star in portable gas convectors
Named after the brightest star in the constellation of Auriga, the Capella 18Plus Convector shines brightly.  Enjoy radiant warmth in large open-space living areas with an impressive electric element that can pump out an extra 2kw of heat.
Escape the winter chills with a thermostatic control that turns itself off when your desired temperature is reached, and fires up again should it suddenly get cold. The Capella 18Plus Convector comes complete with a simple control panel and included remote control, so you can get warmth in an instant. Avoid bill shock thanks to its low emission technology and economy mode.
With four programmable timers (morning/evening and weekday/weekend) you'll feel total comfort in the home with the portable Capella 18Plus Convector.  All you need is an appropriate gas connection point.
Available while stocks last
Ideal for large living areas
Convenient remote control operation
Easy to use control panel with advanced functions
While stocks last
Sleek contemporary design to suit any home
2kW Electric Boost on Avenger 'Plus' and Capella 'Plus' models
Adjustable Temperature Setting – 'Plus' models also with Auto Off
Easy to use control panel with advanced functions
Remote Control featuring On/Off/Temperature Setting (except Enduro 13)
Economy mode - saving gas and money!
Low emissions technology – the more stars the better
Compatible with LPG & Natural Gas
The product information on this website (comprising product brochures, warranty information, installation manuals, diagrams, specifications and representations) relates to current products. This information may be different for superseded products. For superseded products please contact Rinnai to confirm product information.
Specifications
| | |
| --- | --- |
| Dimensions (mm) : Height | 570 |
| Dimensions (mm) : Width | 610 |
| Dimensions (mm) : Depth | 245 |
| Colours | White or Platinum Silver |
| Gas Input MJ/h Low | 8.5 |
| Gas Input MJ/h High | 18 |
| kW Output | 6.6 |
| Heats upto Capacity (m2) : Very Cold | 55 |
| Heats upto Capacity (m2) : Cold | 66 |
| Heats upto Capacity (m2) : Cool | 89 |
| Heats upto Capacity (m2) : Mild | 102 |
| AS4553 Efficiency Star Rating | 5.8 |
| AS4553 Emissions Star Rating NG & LPG | 4.6/4.1 |
| Thermostatic or Manual Control | Thermostatic |
| Dual Weekday & Weekend Timers | Yes |
| Preheat Feature | Yes |
| Economy Mode | Yes |
| Auto Off Mode | Yes |
| Override Button | Yes |
| Child Lock or Lock Button | Yes |
| Gas Type | LPG & NG |