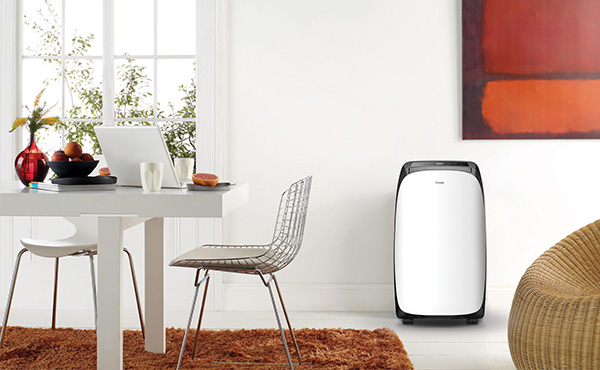 3.5kW Portable Air Conditioner
A Refreshingly Efficient Portable Air Conditioning Unit
Blending technology with design, Rinnai's 3.5kW Portable Air Conditioner delivers personal climate control for bedrooms, home offices and small living spaces up to 24m². 
With easy portability via the omni-directional wheels and carry handles, this modern Mobile Air Conditioner features a convenient self evaporating system eliminating the need to constantly empty the water tray. 
Escape sultry summer days with the dehumidifying mode, which removes moist heat from the room and replaces it with refreshing cool air. With a host of extra features including intelligent sleep mode, adjustable temperature control and delay timer, the Rinnai 4.1kW Portable Air Conditioner is a practical cooling solution that moves with you.
Suitable for bedrooms, home offices and small living areas
2 year warranty
Modern personal air conditioner
Ventilation kit included
Adjustable temperature control
Simple to use remote control with bracket
Delay timer – set the time for the portable air conditioner to switch on or off depending on your preference
3 speed fan
Ventilation kit included
Fan only option
Swing function to allow maximum air flow throughout the room
Omni-directional caster wheels for convenient movability
Convenient carry handles
The product information on this website (comprising product brochures, warranty information, installation manuals, diagrams, specifications and representations) relates to current products. This information may be different for superseded products. For superseded products please contact Rinnai to confirm product information.
Specifications
| | |
| --- | --- |
| Model | RPC35WA |
| BTU | 12000 |
| Rated Power | 1600W |
| Rated Voltage | 220-240V 50Hz |
| Dimensions (HxWxD) | 795x480x400 |
| Weight (kg) | 33 |
| Air Flow Volume (L/S) | 114 |
| Rated Cooling (kW) | 3.55 |
| Rated Cooling Current (A) | 5.95 |
| Rated Cooling Input (kW) | 1.34 |
| Refrigerant/Quantity (g) | R410A/520 |