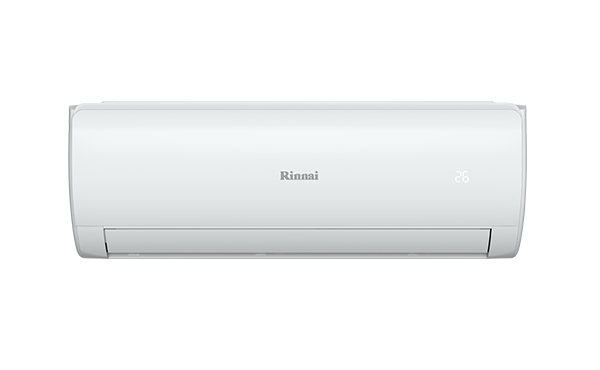 2.5kW Reverse Cycle
Relax with Rinnai's latest innovation in home comfort.
The 2.5kW system is an ideal size for the bedroom. Escape those hot summer nights with a Rinnai Inverter system, and sleep easy with low sound levels from both the indoor header and the outdoor compressor. Providing cooling and heating, the 2.5kW Inverter offers reliable quality through innovative technology.

Ideal size for the bedroom
Low indoor noise level
Sleek, modern design
Sleek, modern design
Energy efficient inverter technology
Easy to use remote control
Wi-Fi Enabled
Delay timer to turn the appliance on or off within a specific time period
Intuitive end of season cleaning function
Adjustable air flow direction
Outdoor operation range for temperatures of up to 52° Celsius
Low operating noise levels
Boost/turbo mode to reach the set temperature within a shorter period of time
R32 Refrigerant
5 year limited warranty
The product information on this website (comprising product brochures, warranty information, installation manuals, diagrams, specifications and representations) relates to current products. This information may be different for superseded products. For superseded products please contact Rinnai to confirm product information.
Specifications
Model
HSNRQ25B
Cooling Capacity
kW
2.5(0.8~3.3)
Heating Capacity
kW
2.5(0.7~5.2)
AEER/ACOP
W/W
4.80/4.90
Energy Star For Cooling
5
Energy Star For Heating
5
Moisture Removal
Litres/h
0.7
Indoor Noise Level (Turbo / Min)
dBA
43 – 25
Outdoor Noise Level
dBA
50
Electrical Data
Power Supply
(V)/(HZ)
220-240~/50
Running Current
Cooling (A)
2.3 (0.9~6.0)
Heating (A)
2.3(0.7~5.2)
Power Input
Cooling (W)
525
Heating (W)
525
Refrigerating System
Refrigerant Type
R32
Compressor
Type
Variable Output
Connections
Connecting Pipe
Liquid (Inches)
1/4
Gas (Inches)
3/8
Dimensions
Net Dimensions (W*H*D)
Indoor (mm)
850*300*198
Outdoor (mm)
768*545*311
Net Weight
Indoor (kg)
9.5
Outdoor (kg)
31