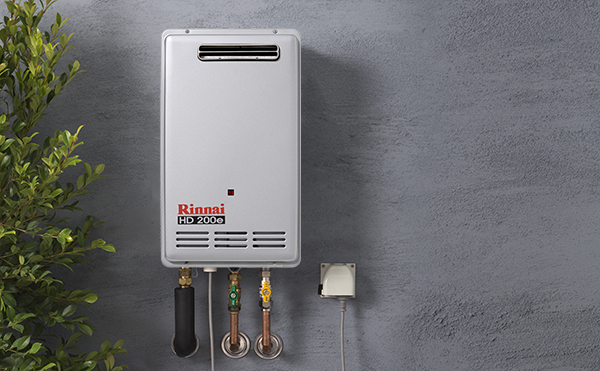 HD200e
Delivering a constant outlet temperature at all times, the HD200e is Australia's most popular commercial continuous flow water heater. Thanks to its 'on demand' electronic ignition, it only consumes gas when in operation. In doing so, the Rinnai HD200e achieves an excellent 5.9 Star energy rating.
For external applications only.
Suitable for cafe's, small retail, and child care centres
5.9 Star efficiency rating
External model
Suitable applications include:
Cafés
Hair dressing salons
Butchers
Laundromats with domestic style top loader machines
Childcare centres
Small amenity blocks
Factories
The product information on this website (comprising product brochures, warranty information, installation manuals, diagrams, specifications and representations) relates to current products. This information may be different for superseded products. For superseded products please contact Rinnai to confirm product information.
Specifications
| | |
| --- | --- |
| Dimensions (mm) : Height | 600 |
| Dimensions (mm) : Width | 350 |
| Dimensions (mm) : Depth | 251 |
| Colours | Titanium |
| Factory Default Temperature (Celsius) | 50 or 75 |
| Water Pressure (kPa) : Minimum | 190 |
| Water Pressure (kPa) : Maximum | 1000 |
| Gas Rate Min/Max : NG | 16/199 |
| Gas Rate Min/Max : LPG | 16/199 |
| Flow Rate 25 Degrees C/Max :  L/min | 26/32 |
| Star Rating | 5.6 |
| Connection Sizes Gas/Hot/Cold (mm) | 20/20/20 |
| Status Monitor | Yes |
| Dimensions (mm) : Height Inc Brackets | 636 |
| Dimensions (mm) : Hot Water Outlet (From Wall) | 96 |
| Dimensions (mm) : Hot Water Outlet (Left from Centre) | 110 |
| Dimensions (mm) : Cold Water Inlet (From Wall) | 75 |
| Dimensions (mm) : Cold Water Inlet (Right from Centre) | 27 |
| Dimensions (mm) : Gas Connection (From Wall) | 104 |
| Dimensions (mm) : Gas Connection (Right from Centre) | 89 |
| Dimensions (mm) : Gas Connection Length (From Base) | 41 |
| Dimensions (mm) : Cold Connection Length (From Base) | 51 |
| Dimensions (mm) : Hot Connection Length (From Base) | 42 |
| Weight (Kg) | 21 |